Year 11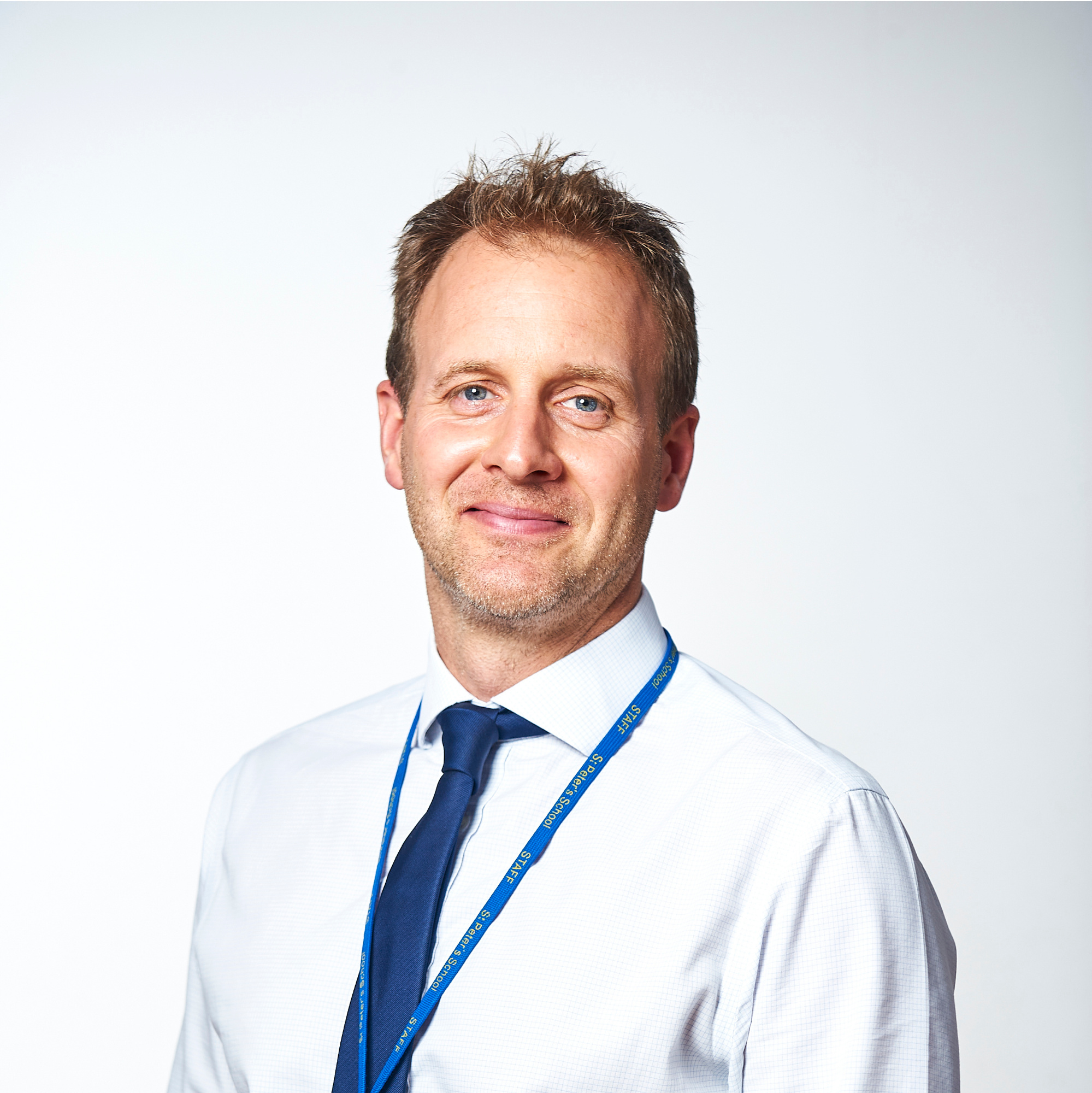 Double Click To Change The Link
WELCOME TO YEAR 11
My name is Tom Berry, I am a Technology teacher and Head of Year 11 here at St Peter's School. I have worked at St Peter's since 2004 and have also spent the majority of those years as part of the pastoral team.
Year 11 is the culmination of many years of hard work for our students. It can be a very challenging and demanding year, but the school aims to walk alongside them, offering support and guidance every step of the way. There are a number of GCSE information and revision evenings, focussed on helping you as a family work together, with the school, to achieve great results in the summer.
Throughout the year there is a vast array of breakfast, lunch and after school support sessions being run by dedicated subject teachers to help students achieve their full potential in the summer examinations. From Easter, staff also run intensive revision sessions during the school holidays and at weekends.
Year 11 is also a time of celebration as students reflect on the friendships made during their time at St Peter's. There are commemorative items such as a Yearbook and Hoodie as well as an end of year celebration assembly and Year 11 Prom in June.
This is also a time for students to think about their next steps after GCSEs. We have careers guidance, Sixth Form open evening and taster mornings, practice interview sessions and a host of other supportive programmes to help students make the right choice for themselves as they move into further education.
A successful Year 11 student will have excellent attendance in school and be managing their time effectively to ensure they are completing any coursework on time and to the very best of their ability. They will be revising throughout the year, using the mock examinations in December to gauge their progress. They will be making the most of extra support being given by their subject teachers and fully participating in wider school life.
Achieving great GCSE results is never easy but when students, parents and the school, work together, there is a real opportunity for success.
Art
Year 11 GCSE Art & Design concludes with completion of a practical Coursework Unit and an Externally Set Assignment. Students continue to develop highly personal work with media of their choice, in response to a wide range of first-hand experiences and contextual inspirations. ArtPedagogy.com and PhotoPedagogy.com are key resources developed by the Subject Leader.
Specification
AQA (60% Coursework; 40% Externally Set Assignment)
Topics
New themes are developed each year, in response to a range of inspirations such as artists' work, gallery visits, news events, and personal, practical explorations. Lesson resources are available at ArtPedagogy.com and PhotoPedagogy.com
Extra-Curricular
There are a range of fieldwork and extra-curricular opportunities available throughout the year, including London gallery visits. GCSE Students are able to use the art rooms at lunch time and after school to develop their studies. Specific teacher support is available on one evening each week.
Home Learning
Home learning is an essential part of GCSE study and promotes independent creative development. Some students opt to complete home learning tasks within after school support sessions. Tasks vary depending on the project in focus and range from practical to research based.
Assessment
Creative development and practical activities are assessed regularly to inform planning and target setting. This is done through a range of assessment strategies, including one to one discussions and sketchbook looks, also peer and monitored group assessments. Formal tracking grades are recorded across the school year in line with school policy. Final coursework and exam unit assessment takes place in May. This is done internally and then moderated externally.
Business
Our Business GCSE endeavours to bring the subject to life. Our courses have links to businesses and the teaching methods vary with the requirements of the topic covered. Both literacy and numeracy skills are necessary.
Specification
Edexcel GCSE Business (2017)
Topics
Growing the business
Making marketing decisions
Making operational decisions
Making financial decisions
Making human resource decisions
Extra-Curricular
Student Investor Challenge
Regular after school revision sessions
Home Learning
Home learning is issued regularly (normally weekly) and can take various formats such as research, short answer questions or longer exam style questions. As we approach the external examination the work is split between revision activities and past paper questions.
Assessment
Written examination: 1 hour and 30 minutes
Child Development
This GCSE level qualification covers all aspects of child development from conception to five years, studying the Physical, Intellectual, Social and Emotional development, as well as safety, health, professional practitioner roles and mental well-being. Students gain knowledge and understanding, as well as some practical skills needed to create the best conditions for a child's development and gain insight and knowledge in a wide range of theoretical units linking to careers in Education, Medicine, Midwifery, Nursing, Social Care and the Services.
Specification
OCR Cambridge National Level 1/2 Child Development
Topics
Students learn about the range of equipment and nutritional and hygiene requirements of children from birth to five years, and they demonstrate in a practical activity how these needs are met to promote a child's development and well-being.
Students investigate the developmental norms of children from birth to five years and develop an understanding of the impact of play on the developmental norms. They apply and demonstrate their knowledge and understanding through practical activities. Students must arrange visits with a child 1-5 years outside school to 'study' for their coursework. They will apply learning on method of play, observation & recording methods used by practitioners, learning styles and the Early Years Foundation Stage. This final assignment is expected to be a significant piece of written work and will use the Harvard referencing system along with presentation and layout techniques closely linked to AS level.
Extra-Curricular
After school sessions run weekly to support with revision and coursework throughout Year 10 and 11 with focused sessions around deadlines and examinations.
Home Learning
High expectations for continuation of class learning and coursework completion. All students will need to work with a young child in Year 11, they will need to organise play sessions outside of school and their observations of the child's development will be the foundation of their final coursework unit worth 25% of the qualification.
Assessment
The external examination is sat in the summer of Year 10, with a re-sit opportunity in Year 11 at a cost. Student's highest grade is taken into the final qualification calculation. Examination covers 50% of the overall qualification. Two coursework units comprising of 6 assignments makes up the other 50% of the qualification and are studied through the two GCSE years. There is one opportunity to re-submit coursework for improved grade, at a cost.
Citizenship
The GCSE course continues, and Citizenship Enrichment now includes Financial Literacy and lessons connected to further learning, beyond Year 11.
Specification
Edexcel GCSE Citizenship Studies (2016)
Topics
Law and Justice
Power and Influence
Extra-Curricular
GCSE Citizenship students visit a local Magistrates' Court and observe cases.
Home Learning
Home learning is set every week for the GCSE Specification.
Assessment
GCSE Paper 1 – Living Together in the UK, Democracy at work in the UK, Law and Justice and "Issues and debates" questions. GCSE Paper 2 – Power and Influence and Taking Citizenship Action.
Computer Science
All Leaners need to be digitally literate and become autonomous programmers; being able to apply algorithmic processes to any computer language to solve everyday problems; having knowledge of the important components of computerised networks and be able to evaluate their characteristics and efficiency. All Learners need to understand the role of computerised systems in society, their application to other industries and how they are used responsibly in an evolving society.
Specification
OCR GCSE Computer Science
100% final Exam – Computer Systems (50%); Computational Thinking (50%)
Topics
Systems Architecture
Memory
Storage
Networks
System Security
System Software
Legal & Ethical Issues
Algorithms
Programming techniques
Computational Logic
Data representations
Home Learning
Home learning is set weekly with a mixture of research tasks, past paper questions and longer programming tasks.
Assessment
Most of the first term is spent completing the Non-Examination Assessment. There is a formal Mock Examination and a thorough revision programme to enhance the students' knowledge and skills.
Dance
GCSE Dance provides students with the opportunity to acquire experience of performance, choreography and to look at professional works. The study of dance helps students develop confidence, leadership skills, creativity, artistic appreciation and improve physical fitness.
Specification
AQA GCSE Dance
60% practical and 40% theory
Topics
In Year 11 pupils will be moderated on their final assessments of all the practical components by an external examiner and will complete a written examination in the summer.
Solo set phrases
Performance in a duo/trio
Solo/Group choreography
Extra-Curricular
Annual School Production
A Level Showcase
Dance Showcase
Home Learning
Home Learning is set weekly and can be both theoretical and practical preparation for lessons.
Assessment
There are three key assessment points for the practical dance components. October – Performance in a duo/trio, December – Set Phrases and March/April – Choreography. There is a mock written exam in December with the actual 90 minute written exam in the summer term.
Drama
The progression routes from Drama are varied, with a clear emphasis on the creative and expressive arts, including the work of performers, designers, directors and theatre makers. The skills learnt will empower students to find work in other employment sectors also.
Specification
PEARSON/EDEXCEL
Devising a new performance (40%)
Monologue/Duologue (20%)
Topics
GCSE – AQA B (spec. topics):
Devising from a stimulus
Devising from a stimulus and performance of devised piece. Also monologue and duologue rehearsal
Monologue and duologue performances
An Inspector Calls exploration
An Inspector Calls examination preparation
Extra-Curricular
Whole School production
Bar Mock Trial (role play)
GCSE Drama Creative Group
Home Learning
Home learning will vary depending on which component is being prepared. The work will range from learning lines, rehearsing individual and group performances, current affairs and historical research, set and lighting designs, practice exam questions, portfolio question drafts and character studies.
Assessment
Teacher assessed devised performance
Devised portfolio (6 questions about the development and evaluation of a new piece of theatre created by students)
Externally assessed practical performance exam (monologues and duologues)
Externally assessed Written Examination in May
English
The final year of GCSE courses working towards qualifications in English Language and English Literature.
Specification
Edexcel English Language
Edexcel English Literature
Topics
Study of Shakespeare's Macbeth
Preparation for Autumn mock examinations – English Language Paper 2 and English Literature Paper 1 (An Inspector Calls and Macbeth)
Revision of all Literature texts and examination practice
Extra-Curricular
Debates
Writing competitions
Catenian Public Speaking Competition
Home Learning
Home learning is set weekly from modular home-learning booklets and is varied in its content. The home learning tasks in Year 11 are based on the GCSE English Language papers. Through these tasks, students will be developing key skills for English Language. There are lessons devoted to directed improvement and reflection time every week. In the final term, students will be revising through guided tasks.
Assessment
Half termly in-house assessments comprising end-of-module class assessments, combined with peer, self and additional teacher assessments. Year 10 summer examinations. There will be increasing opportunities for assessment practice in the lead up to examinations.
Food Technology
Students will work on their own Non Examination Assessment (NEA) portfolio projects as well as revising key theory in preparation for the written exam.
Specification
WJEC GCSE Food preparation and nutrition
15% Food science investigation project
35% Skills preparation project with a context set by the exam board
50% 90 minute written exam paper
Topics
From June of Year 10 until March of Year 11 students will create a portfolio and prototype product based on a chosen context for their NEA project, utilising all of the skills learned throughout KS3 & 4 (Design contexts for the NEA are released annually by AQA)
In the spring term students will revise theory topics for the written exam
Extra-Curricular
GCSE Catch up after school sessions
Home Learning
Home learning is set weekly with an emphasis on preparing for their GCSE NEA & exam. Many homework tasks will link directly to the GCSE revision guide used.
Assessment
NEA portfolios and practical examinations internally assessed. Full GCSE paper for the internal winter mock exam.
Geography
The study of contemporary human & physical geography concepts.
Specification
OCR GCSE Geography B
Topics
Resource Reliance
Human geography fieldwork Southampton
Changing Climate
Development
Extra-Curricular
Independent revision sessions once a week
Geographical Association competitions as appropriate
Home Learning
Range of types including research, learning & written tasks set once or twice a week
Assessment
End of unit internal assessments based on exam materials. Internal exam (60 minutes) on physical geography units in December. Internal exam (60 minutes) on human geography units in February.
History
he History department aims to instil a deep love of the subject to all GCSE students through thoughtful lessons and the development of academic skills that make History one of the most valued and useful academic disciplines.
Specification
AQA GCSE History
Topics
Weimar & Nazi Germany
Norman England
Extra-Curricular
GCSE trip to Berlin supporting the module on Nazi Germany
History lectures in conjunction with Southampton University
Home Learning
GSCE students will be expected to complete homework as directed by their class teacher. Generally, this will be one substantial homework each week. Homework activities will vary and will include research tasks, revision for assessments, past paper questions to help students enhance exam technique, consolidation tasks and creative work.
Assessment
Class assessments to test and enhance skills and knowledge. End of unit assessments. GCSE public exams in the summer term.
Mathematics
Year 9 lessons will embed and develop the knowledge, skills and concepts required for GCSE (9-1) Mathematics.
Specification followed for GCSE
Pearson Edexcel GCSE Mathematics
Topics
Foundation (sets 3+4)
Transformations
Ratio
Pythagoras' Theorem and Trigonometry
Probability
Multiplicative reasoning
Constructions
Quadratic equations and graphs
Shape (PAV)
Fractions/standard form
Congruence, similarity and vectors
Algebra
Higher (sets 1+2)
Equations
Probability
Multiplicative reasoning
Similarity and congruence
More trigonometry
Statistics
Equations and graphs
Circle Theorems
Algebra
Proportion and graphs
Extra-Curricular
Intermediate Mathematics Challenge
Southampton University Mathematics Challenge
Home Learning
Set by the teacher once a week (handed in on the same day each week) minimum of 90 minutes.
Assessment
Three 90 minute exams – one non calculator and two calculator
Sets 3+4 Foundation Tier grades 1-5
Sets 1 +2 Higher Tier grades 4-9
Modern Foreign Languages
To develop key grammar skills, vocabulary, listening, reading, speaking, writing and translation skills. Resources include videos, sound files, self and peer-assessment activities, interactive vocabulary builders and practice questions.
Specification
AQA GCSE French
AQA GCSE Spanish
Topics
French
Me, My Family & Friends
Technology in Everyday Life
Free Time Activities
Customs and Festivals
Home, Town, Neighbourhood
Social Issues
Spanish
Me, My Family & Friends
Technology in Everyday Life
Free Time Activities
Customs and Festivals
Home, Town, Neighbourhood
Social Issues
Extra-Curricular
French & Spanish Revision Classes
Home Learning
Home learning is set weekly and will vary between learning vocabulary, reading, writing and translation activities. Preparation for the GCSE oral exam and online listening activities from Kerboodle.
Assessment
A skills assessment every half term plus a mock GCSE speaking exam in the summer term.
Music
GCSE Students learn Music History (c.1450 – Present Day), Aural Awareness, Performing and Composing skills.
BTEC Students learn about the Music Industry through live and vocational topics, developing a skill set ready for the workplace.
Specification
EDUQAS Music GCSE or EDEXCEL BTEC Certificate in Music
Topics
GCSE
Musical Devices
Music for Ensembles
Music for Film
Popular Music
Students also work on composing and performance skills
BTEC
The Music Industry
Live sound recording
Extra-Curricular
Coursework Catch up sessions are available every lunchtime in T14, and after school Tuesday–Thursday. BTEC Tech Club
Home Learning
Home Learning is set weekly. In addition, students are expected to be practicing their instrument/voice for performances. BTEC Students often have research tasks relating to the unit that they are completing.
Assessment
GCSE Students complete 2 mock exams in Year 10, as well as mock coursework. Formative assessment is completed each lesson and students are set regular key vocabulary tests.
BTEC Mock and final exam for Unit 1 The Music Industry, plus a recording of a Live Performance Unit is completed and moderated in Year 10.
Physical Education
Through the development of employability skills and the medium of physical activity we aim to enthuse the desire to be active for life, encourage the drive for achievement, celebrate the success of others, allow freedom of thought and accept the differences of the individual.
Specification
AQA – GCSE PE
Topics
A number of activities will be on offer encouraging a wide variety of active and competitive opportunities with the intention of developing the students core values of:
Empathy
Community
Persistence
Aspiration
Collaboration
Imagination
Morals and ethics.
Extra-Curricular
A full programme of extra-curricular activities is on offer ranging from boxing to badminton in excellent facilities with a combination of paid coaches and PE staff. Opportunities involving coaches from outside of school may have a termly charge.
Home Learning
Home learning is not methodically set although there is an expectation that students and their families should take a positive and responsible approach to regular weekly exercise and a healthy food regime. This may include park run, visits to the gym, cycling and running or some form of daily outdoor activity.
Assessment
Students will be assessed throughout the year on the PE core values: Empathy, Community, Persistence, Aspiration, Collaboration, Imagination, Morals and ethics.
Religious Education
The skill base in GCSE Religious Studies is manifold – literacy, analytical, rational thought, balanced arguments, and philosophical discourse.
Specification followed for GCSE
AQA Religious Studies B (100% final exam)
Topics
Incarnation
Triune God
Redemption
Church and the Kingdom of God
Extra-Curricular
Young Lasallians
The Young Citizens Bar Mock Trial (Great Britain) national competition and the Empire Mock Trial (United States) international competition.
Philosophy Masterclass at Oxford Town Hall, and an Oxford College tour.
Home Learning
Home learning is set weekly with an emphasis on GCSE-style questions. For high achievers, flipped home learning is a focus on reading ahead, note taking from the reading, and the early creation of study paraphernalia.
Assessment
End of module class tests. Full GCSE question quota for the internal summer mock exam.
Science
To complete the second half of the GCSE course including all higher tier work and required practicals for the Combined Science course
Specification followed for GCSE
AQA GCSE Combined Science (Trilogy) (100% final exam)
Topics
Paper 2 mostly covered in Year 10
Biology
The Human nervous system
Hormonal co-ordination
Homeostasis
Reproduction
Variation and Evolution
Genetics and evolution
Adaptations, interdependence and competition
Organising an ecosystem
Biodiversity and ecosystems
Chemistry
Rates and equilibria
Crude oils and fuels
Organic reactions
Polymers
Chemical analysis
The Earth's atmosphere
The Earth's resources
Using our resources
Physics
Forces in balance
Motion
Forces and motion
Pressure and surface area
Wave properties
Electromagnetic waves
Light
Electromagnetism
Space
Extra-Curricular
Biology Challenge offered to those who wish to enter
Usually one guest speaker per year group, topic varying each year
Evening Science lectures open to all
Home Learning
Home learning is set weekly in the form of learning key words and concepts from set pages. This is checked by a 10-mark quiz once a week. A detailed letter explaining the expectations and rational for these tasks will be sent to all parents at the start of September.
Assessment
Personal Assessment Tasks (PATs) for diagnostic (formative) use. Students will be tested on Biology, Chemistry and Physics each per term.