Pupil Premium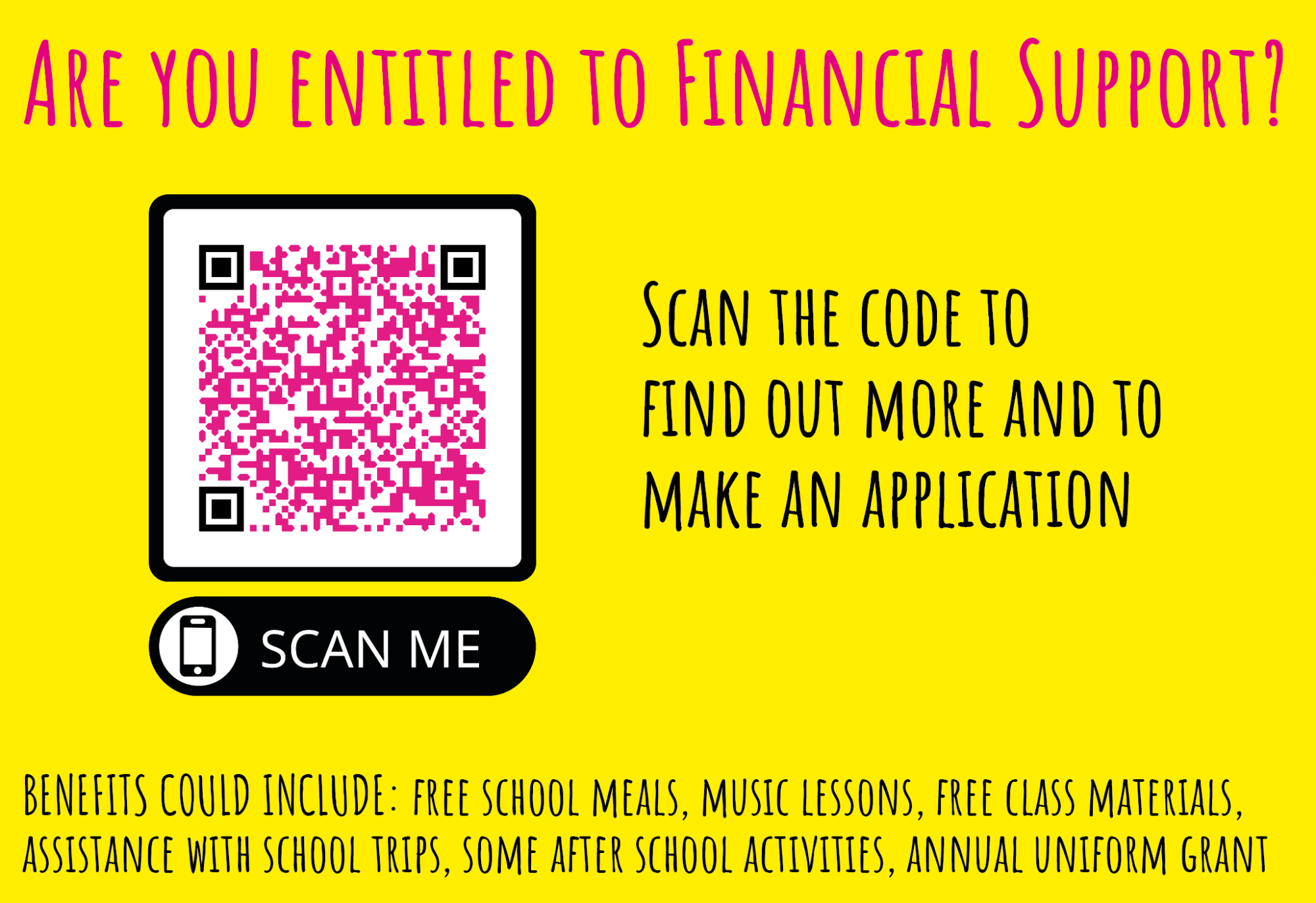 Alternatively, click here to find out more and to make an application for financial support
The Pupil Premium was introduced in 2011 and is an allocation of money that is given to schools to specifically assist children who fall into at least one of the following groups:
They are currently eligible for free school meals (FSM)
They have been eligible within the last six years for free school meals (FFSM)
They have been identified as a Looked after Child (LAC)
Those whose parents are currently serving in the armed forces
This money is specifically designed to help us to raise the achievement level of the students in these groups who have previously been identified as being disadvantaged through economic hardship. We also receive a premium for students whose parents are currently serving in the armed forces, this money is specified to help with the emotional and social well-being of these pupils.
It is for schools to decide how the Pupil Premium allocated to schools, per Free School Meal pupil is spent, since they are best placed to assess what additional provision should be made for the individual pupils within their responsibility
— Department for Education
How we use Pupil Premium at St Peter's
We are using a wide range of strategies to help us improve performance within the above identified groups.
Within the taught curriculum
Free Learning resources eg: revision guides, flash cards, exam papers, access to electronic learning platforms, stationery etc.
One to one and small group tuition for Mathematics and English — Years 10 & 11 students.
Small group support for Science — Years 10 & 11 students.
Below Level 4 at KS2 — one to one and small group for English & Maths –Years 7 & 8.
Targeted intervention in English & Maths for those at Level 4 for Years 7 & 8 students.
Provision of alternative curriculum opportunities.
Development of an intervention log for Year 11 to ensure all these students receive elements of the available support.
Improvement in data tracking of the progress of these students & then applying effective intervention strategies to ensure improvements.
Beyond the taught curriculum
School Uniform grants available for all Pupil Premium students
Contribution to the work of an Education Social Worker and Inclusion Manager.
Access to an independent personal adviser for careers advice & guidance — 'fast pass' interviews for Year 11 Pupil Premium students and other year groups.
One to One support available from a Pupil Premium Learning Mentor.
Financial support for all educational trips and visits available for all Pupil Premium students.
Music tuition to build self-esteem and musical expertise.
Music Therapy sessions for some Pupil Premium students in association with Nordoff–Robbins
Year 11 'Power revision day' in February half term.
Extra holiday/weekend revision classes extended to Easter holidays and May half term.
Educational Psychology support (if appropriate).
Specialist Anger Management support (if appropriate).
Year 8 and 9 project — to support self-esteem/confidence issues for small groups — SHINE PROJECT.
Breakfast Club — Years 7, 8, 9, 10 & 11.
Attendance related support & incentives.
Home Learning Club — every Monday, Tuesday, Wednesday, Thursday after school — Years 7-11.
Laptops available for loan – on request.

Please click on the following links for more insight into the Pupil Premium programme at St Peter's
Primary Phase Pupil Premium Report – Review & Strategy
Secondary Phase Pupil Premium Report – Review & Strategy
Secondary Phase Year 7 Catch Up Premium Report
Secondary Phase Pupil Premium Attainment Data Journey