Secondary Open Evening
Thursday 23 September, 5-8.30pm — please read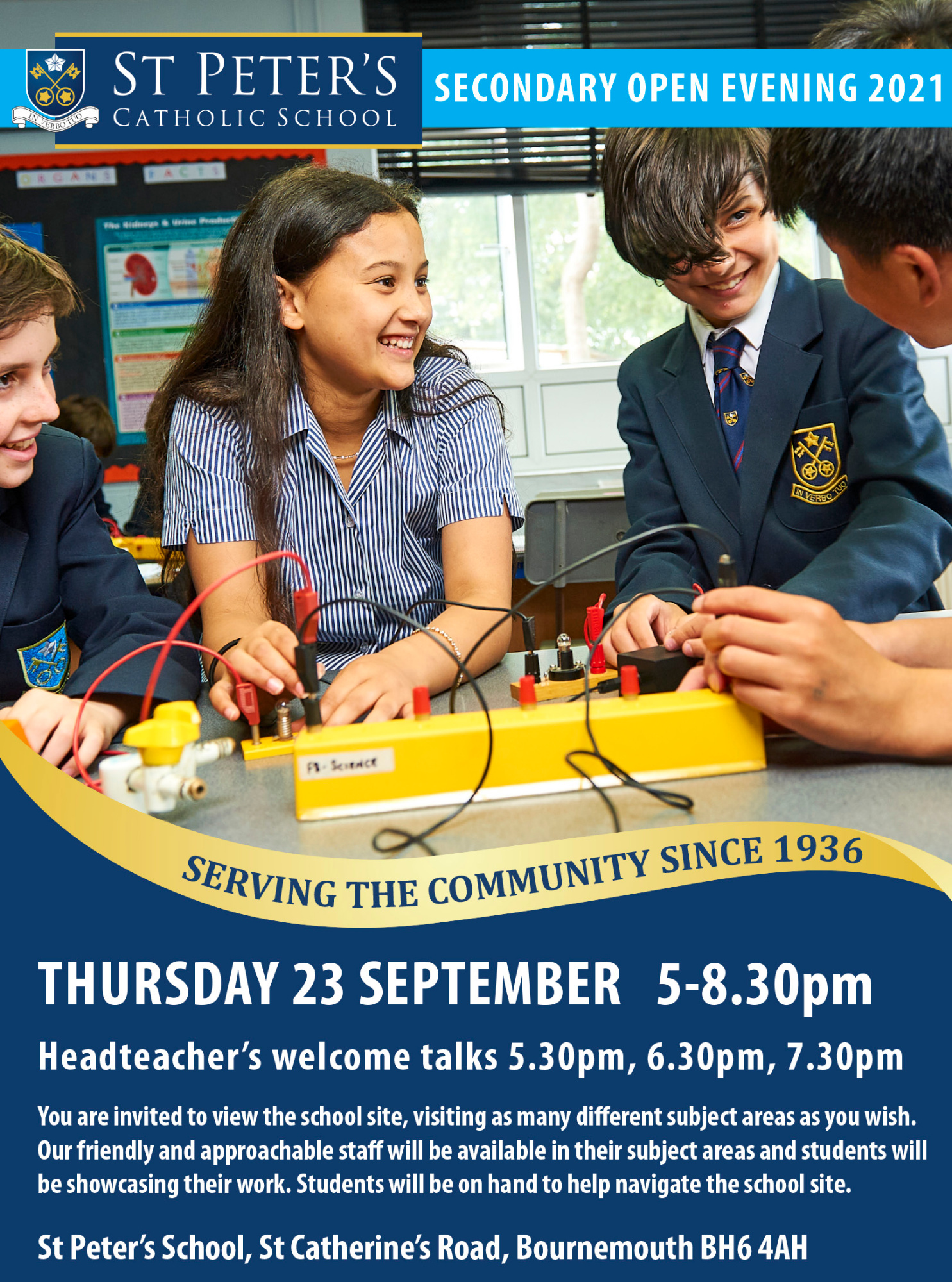 Please note, due to COVID-19, the following extra measures will be in place on the evening
There will be no parking available on site
Access will be via St Catherine's Road main entrance only.
Due to the number of visitors we anticipate, we are encouraging our guests to wear a face covering when moving around the school, unless exempt and wearing a lanyard
We will be encouraging all visitors with a smartphone to register electronically on the evening via a QR code
As we will be restricting the number of people in the theatre at any one time, there will be three opportunities to hear the Headteacher's welcome talk on the evening
A one-way system will be in operation to aid the flow of people around the school site, we would ask visitors to use common sense to avoid over-crowding in any subject areas
A recorded version of the Headteacher's talk and a virtual tour of the site will be made available on our website after the 23 September
We will be photocopying documentation in support of your application and refreshments will also be available.

Making an application

In order to ensure your child is considered in the correct category, for Year 7 September 2022 start, please complete the following.
Apply online with BCP Council (or your local council wherever you pay council tax)
Supply an original 2022/2023 SIF* (Supplementary information Form) completed and signed by your Priest or Faith Leader, if applicable
Supply a copy of your child's baptism certificate and/or Holy Communion certificate, if applicable
Send SIFs and certificates for the attention of Claire Botto, Admissions Officer, St Peter's School, St Catherine's Road, Bournemouth BH6 4AH**
For more detailed information on the application process please see here

*SIF forms are no longer essential, but any application without a SIF will be placed at the bottom of the Catholic category.

**The deadline for all applications and accompanying paperwork is midnight 31 October (Please note the last week of October is half-term followed by staff training days, so access to the school will be limited. The school will be open again on Wednesday 3rd November 2021).