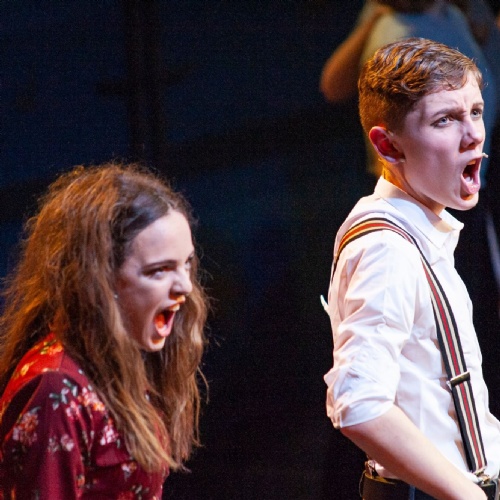 Sweeney Todd The Demon Barber of Fleet Street- Opening Night Review
Published 21/02/20
Sweeney Todd, De La Salle Theatre, 30 January – 1 February
Sweeney Todd Sweeney Todd is a complex, technically and vocally challenging show, requiring skilled and at times intense acting, with very diverse characters. The cast of students from St Peter's school not only rise to the challenge, but exceed expectations. From the moment the company appears on stage it is clear that this is going to be something special.
Conor Doran as Sweeney Todd portrays a convincingly sinister barber, who goes on a killing spree after life events have left him bitter and hurt. In one scene, while shaving his Nemesis the judge, he is tantalisingly scary, and when he dashes at the audience brandishing his razor the threat feels very real.
Mrs Lovett teams up with Sweeney and they devise a plan to dispose of his victims by putting them (minced) into her infamous pies, which are known as the worst pies in London. Aimee Armstrong handles the role of the cunning Mrs Lovett with all the skill and professionalism of an experienced actress. She gives the character different dimensions, a touch of comedy, a lot of scheming, a touch of evil. Aimee is a gifted actress and singer who deserves a place on the West End stage.
Read More