Free Christmas Youth Club (11-16yrs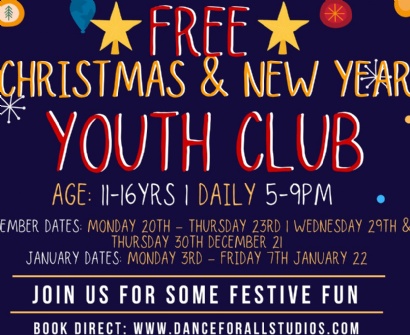 As part of the BCP Council free schools meals program, Dance for all Studios are running a club for secondary school aged children.
The places are free to all young people who would benefit from positive, inspiring, social and most of all fun and engaging activities. In an environment which is encouraging and where young people can learn new skills, meet new friends and have a safe place to go over a long holiday period where they will be provided with food.
The club will be open between 5-9pm on the following Christmas Holiday dates between 5-9pm:
Monday 20 December
Tuesday 21 December
Wednesday 22 December
Thursday 23 December
Friday 24 December
Wednesday 29 December
Thursday 30 December
Monday 3 January
Tuesday 4 January
Wednesday 5 January
Thursday 6 January
Friday 7January
To book a place please see here or for further details contact Stella Mavris on 07881468967. Please note if you do not have access to computer we are able to set up accounts our end. If you require any further information with regard to any of the clubs please do get in touch.