Sweeney Todd The Demon Barber of Fleet Street- Opening Night Review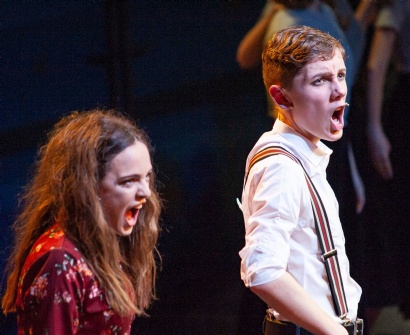 Sweeney Todd, De La Salle Theatre, 30 January – 1 February
Sweeney Todd Sweeney Todd is a complex, technically and vocally challenging show, requiring skilled and at times intense acting, with very diverse characters. The cast of students from St Peter's school not only rise to the challenge, but exceed expectations. From the moment the company appears on stage it is clear that this is going to be something special.
Conor Doran as Sweeney Todd portrays a convincingly sinister barber, who goes on a killing spree after life events have left him bitter and hurt. In one scene, while shaving his Nemesis the judge, he is tantalisingly scary, and when he dashes at the audience brandishing his razor the threat feels very real.
Mrs Lovett teams up with Sweeney and they devise a plan to dispose of his victims by putting them (minced) into her infamous pies, which are known as the worst pies in London. Aimee Armstrong handles the role of the cunning Mrs Lovett with all the skill and professionalism of an experienced actress. She gives the character different dimensions, a touch of comedy, a lot of scheming, a touch of evil. Aimee is a gifted actress and singer who deserves a place on the West End stage.
Johanna, Sweeney's daughter, is played by Ellie Hirst. She gives the character a lovely ethereal quality and her high trills have a sweet innocence that attract the sailor Anthony Hope, played by Andrew Scott, who is well cast and gives the part great sincerity, as he falls in love and is determined to rescue Johanna from the clutches of the heartless Judge Turpin. The judge (Pietro Andreotti/ Aaron Emms) is a strict, cold character who eventually meets his doom, ending up in Mrs Lovett's pies. His sidekick the Beadle (Harrison Macdonald-Taylor) straight laced but with a fine singing voice, meets his fate in the same way. Not all are victims of the demon barber. Young Tobias Ragg survives to the end. Harrison Spiers in the role has some wonderful facial expressions, and bounces on and off stage and into the audience with great confidence.
Megan King, as a beggar woman, is an impressive actress who shows different facets of the character – a lewd street woman, a sad poor beggar, slightly crazed and desperate, all strongly portrayed. As Adolfo Pirelli, Joseph Jacala has great physicality, charisma and swagger. His personality shines through and he competently swaps from an Italian to an Irish accent, with some great comedic moments and strong stage presence.
Under the direction of Marie Fox the entire cast performs throughout to a high standard, always in character, using the floor, the aisles and running through the audience, with very impressive choreography and singing. The orchestra (Musical Director Helen Phillips) gives professional accompaniment and support. The props and scene changes are handled swiftly and unobtrusively by the crew, costumes, hair and makeup and sound and lighting are all of a high standard.
It is difficult not to mention every member of the company by name as every single person deserves high praise for this excellent production. The amount of energy, hard work and passion was very evident and the huge cheers and prolonged applause from the full house proved that this is an outstanding achievement for all involved.